RainGrid has demonstrated leadership in the field of stormwater management since 1996, with the rainbarrel program design and social marketing implementation known as the "5 Things You Can Do for Your River".  We continue to refine lot-level stormwater management for successful MS4 and NPDES compliance well into the future.
Not just a stormwater program designer, RainGrid has manufactured and supplied the leading purpose-built residential V1 RainBarrel to major municipal stormwater and sewer utility programs since 2003.
RainGrid is now transforming the typical stormwater business model into a distributed stormwater utility. We've combined distributed stormwater infrastructure with real-time automation and big data to create a self-regulating, utility-scale network of real-time managed cisterns, or SmartCisterns. Designed, implemented and maintained by RainGrid, the Stormwater Smartgrid guarantees your stormwater program achieves measurable, effective and reliable residential rooftop runoff diversion managed by quantitative precipitation forecasting. Our scalable systems can be purchased as Evaluation Pilots or Asset Infrastructure and fit perfectly with your permit and other regulatory requirements.
RainGrid offers a full suite of services to help municipalities get their Stormwater Smartgrids off the ground. Our areas of expertise include: Program Design, Implementation, Maintenance and Data Analytics & Management. We work closely with municipalities to build a unique deployment strategy best suited for their community's needs.
A Cleantech Leader on the World Stage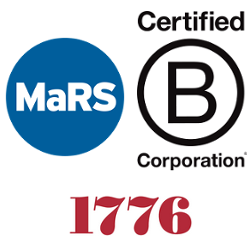 In 2012 we embarked the path of becoming a commercial cleantech start-up. We are indebted to the MaRS Discovery District, which accepted the still barely formed RainGrid as a Cleantech practice client-company. Shortly thereafter, RainGrid was selected as a leading social impact innovator by the MaRS Social Innovation Generation Impact 8 program. In 2015 RainGrid was humbled to be selected to represent Canada in the Smart Cities category at the inCubes/1776 Challenge Cup, a worldwide competition to find the most promising, world changing startups.
RainGrid has renewed its commitment to the triple bottomline with its 
certification
 by B Lab. As a B Corporation RainGrid is identified as a company that meets the rigorous standards of social and environmental performance, accountability, and transparency for our employees, our community, the environment, and our customers.